Endangered primates find their forever homes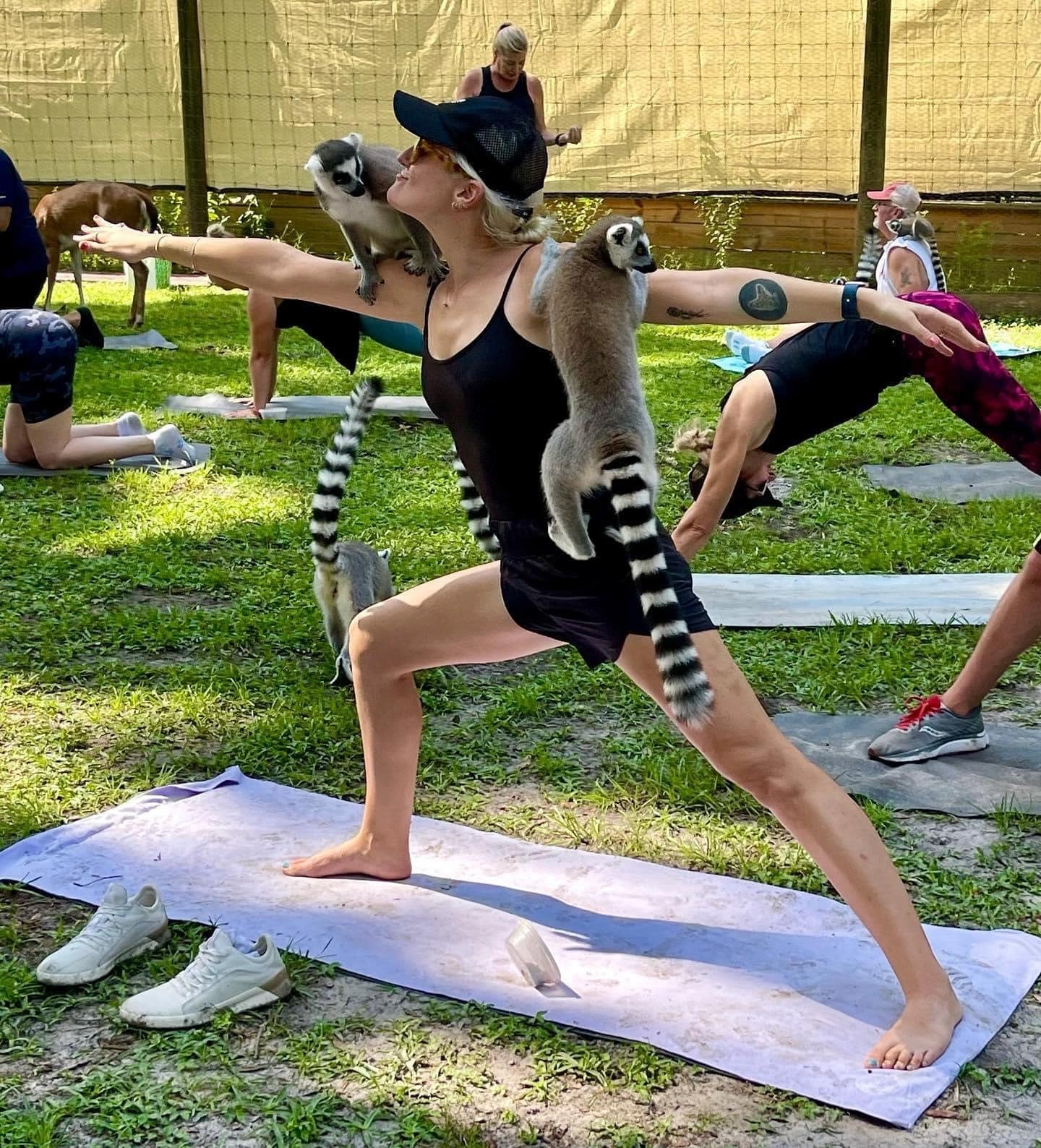 Primate Palooza slated for this weekend embraces music, fun and more to help fund a new vet clinic for the Chase Sanctuary
Located in Webster, Florida is a 10 acre oasis full of comfort and love and a forever home for a variety of exotic animals that have been neglected, abused or otherwise treated with a cruel or unfair hand.
The nonprofit Chase Sanctuary and Wildlife Conservancy was founded 15 years ago as a dog, cat and bird rescue by Nina Vassallo, a semi-retired executive consultant.
"But, following the delivery of a very special brown lemur in 2014, the main focus of the sanctuary is now the preservation of the critically endangered vari lemurs, cottony-crested tamarins and educating the public about specific species and ecosystems," she said.
Their mission is to rehabilitate pet primates that have become aggressive, as almost all pet primates do after a few years. The sanctuary opposes the ownership of primates as pets, as primates benefit greatly when they live in natural, family-sized troops high in the trees where they play and feed.
"It's precisely the lack of this type of environment that causes many of them to become aggressive," Nina said. "In light of this, the family troops here are allowed to breed and create an ideal family structure, after which the males are castrated and/or the females are placed on birth control. The sanctuary will never sell primates to the public," she added.
The primates at the sanctuary include lemurs, monkeys and a few other exotic species including sloths, toucans, antelopes… just to name a few. At the sanctuary, you can see a multitude of animals, including exotic birds, kangaroos, capybaras, turtles and the most beloved, lemurs.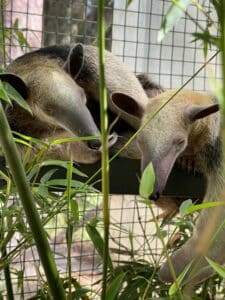 Donna Vassallo has worked at the sanctuary for over 14 years and is a retired Hillsborough County Sheriff's Office Sergeant. She said: "It's a place where unwanted or overly aggressive primates can recuperate and live out their years in peace and safety under a magnificent canopy of grandfather oaks and palms." Currently, there are approximately 145 primates at the sanctuary and over 80 wonderful and dedicated volunteers who help with all aspects of their care and feeding.
The sanctuary has strict dietary guidelines and each animal has its own specific diet specially created by an expert nutritionist.
"Diet sheets are posted in our kitchen which our volunteers strictly follow," Donna said. "We also supplement some diets with monkey biscuits, a product made by Purina. "It is a good source of vitamins, nutrients and protein that will help our primates have healthy bones, teeth, skin and coat."
The sanctuary is also working to grow more food on the property. The showy, bright pink flowers and lush green foliage of hibiscus plants are an attractive food source for many animals ranging from deer to turtles. "It's the sloths that really love hibiscus flowers as a tasty meal," Donna said. "We also grow Plumbago, another rich source of food for our primates."
"Being able to grow some of the food that our primates enjoy is a way to supplement the costs of running the sanctuary," Donna said. "But we are also planning a very special fundraising event from 3-7pm on Sunday, November 13, where 100% of proceeds will go towards building a much-needed vet clinic."
The event will feature live acoustic music, a three-course meal and cash bar in a beautiful setting. There will be door raffles, baskets and a live auction with a professional auctioneer for some lucky winners to receive a cruise, scooter or mini vacation. Otis, the shrine's talented and artistic anteater, will show off his painting skills and some of his original artwork will be auctioned at the event, along with many other interesting and valuable items that have been donated or purchased specially . "We get a lot of support from ASEH (AnimalSpecialty & Emergency Hospital) located in Rockledge, Florida," Donna said. "But our goal is to raise enough funds so that we can have our own veterinary clinic at the sanctuary."
Currently, the sanctuary has a full-time vet tech on site and works with an exotic animal vet two days a week for necessary prescriptions and more.
For visitors – especially animal lovers – the sanctuary can be an interesting place to see a variety of primates first-hand and learn how they got there. The sanctuary has also introduced a variety of programs and tours for public enjoyment.
Lemur Yoga is one of their most popular fun events. Lemurs are natural yoga companions as they adopt various poses to bask in the sun. This act is known as 'sun worship'. Spend a memorable morning or afternoon surrounded by incredibly attractive endangered species. The lemurs and a local artist will help participants paint on canvas while the lemurs will come to visit each artist. Paint, canvas, easel and brushes are included. To participate in this program, members must be 13 years of age or older. Each participant will leave with their own piece of art, and maybe some lemur handprints if you're lucky.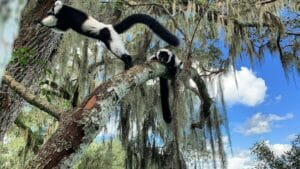 Other animal experiences include lazy meditation, interactive group tours, painting with primates, and acoustics in the afternoon. For more information, visit www.chasesanctuary.org. You must call ahead to schedule a visit as they have limited hours for the general public.
Chase's goal is to continually work towards the most natural habitats possible while keeping the safety and well-being of primates and other exotic species in mind at all times.
"Every animal that enters our sanctuary returns to their forever home and each will receive enrichment and specialized care for the most natural sanctuary existence possible," Donna emphasized. "It is essential that we make those around us aware of the importance of the animals with which we coexist."