New $2 Million Dog Daycare and Boarding House Opens in Fountain | Subscriber Content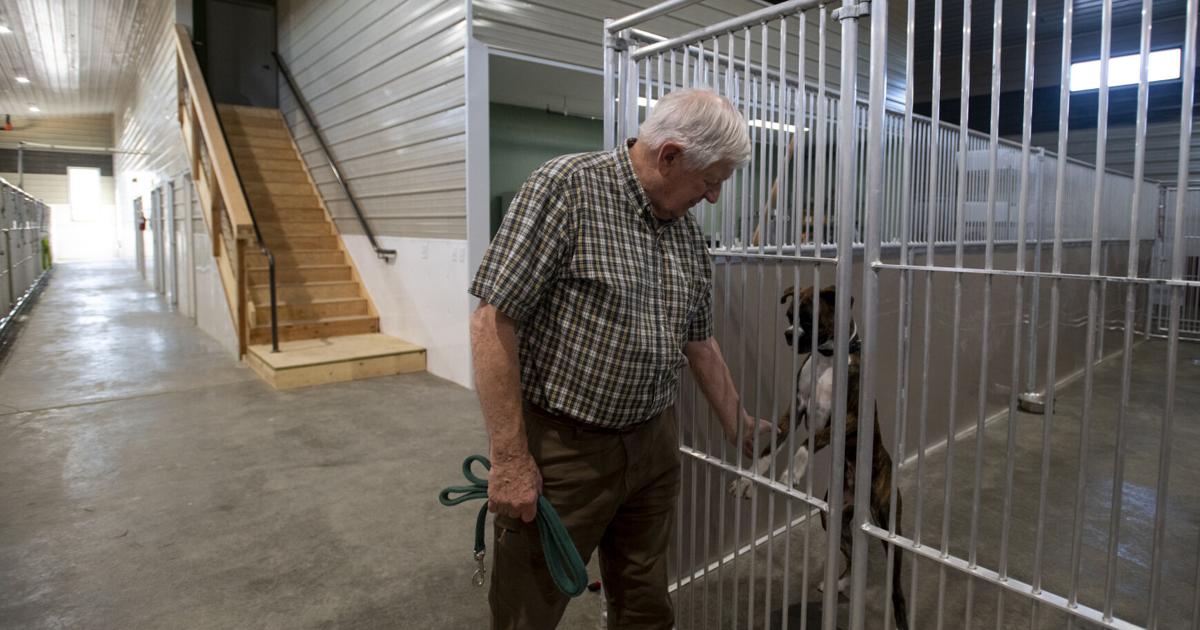 Luxury takes on a new form at Boardmoor Pet Resort.
Visible from Interstate 25 in Fountain, the Boardmoor's 18,807-square-foot facility (the same size as four NBA basketball courts) can easily be mistaken for a warehouse in a strip of industrial complexes. But inside is what owners Dan and Lea O'Sullivan call a dog's "home".
The pet boarding facility, which only caters to dogs until the facility sees more demand for other animals, opened just over a month ago with 74 kennels, radiant heated floors and an automated ventilation system.
"If you're going to do something, do it well," Dan said.
UCCS Economic Forum director steps down to launch new data-driven nonprofit
For the O'Sullivans, that meant investing $2 million in a facility that took nearly three years to complete.
"I wanted a place where we could actually design and build from scratch," Dan said.
From floor to ceiling, Dan and Lea designed the facility to meet all Colorado Pet Care Facility Law standards and made the facility as clean and comfortable as possible so that the facility may live up to its name, Boardmoor Pet Resort – a twist on the name of the legendary five-diamond, five-star resort of Broadmoor.
"(It shows that we) are giving the best care," said Jennifer Armstrong, Lea and Dan's daughter who helps at the facility.
Tim Langness, owner of Sparrow Enterprises, said the building's underfloor heating system was a unique installation for his company.
Beneath the concrete slab, Sparrow laid a system of sensors and glycol that keeps the floors comfortable for the dogs to walk and lie on.
"Dogs are better off lying on something warm," Langness said.
Also inside the kennel area of ​​the Boardmoor, dog gates allow dogs to wander between an indoor setting and a covered outdoor area. Green pipes wind around each enclosure for staff to wash and rinse the area and fans hang from the high ceiling to aid the structure's computerized ventilation system.
"There were a lot of hoops and then COVID-19 got in the way," Dan said.
But now, with the facility's doors open to dogs of all shapes and sizes, the couple are stepping up their services, which include dog sitting and overnight boarding.
The facility is equipped with a grooming space that the two plan to rent out once they find a qualified groomer.
They also hope to hold pet training classes with dog trainer Adam Watson.
Colorado Springs housing market heads in 'more balanced' direction as home sales and prices fall
Watson, who teaches dog training and behavior classes in Colorado Springs and works with local K9 law enforcement teams, said he was impressed with the Boardmoor facility because it provides a space to teach. his classes as well as a place to keep his own dogs.
"If I have to go out of town and leave my dog ​​somewhere," Watson said, "that's the only place they go."
Dan, 77, and Lea, 81, bought the 4.6-acre lot to build their dream dog care center after following their daughter to Colorado from Indiana, where they ran (and still own) a pet kennel for over 40 years.
"I was born and raised on a farm," Dan said. "She (Lea) was in a city… It was killing me to live in a city, so she wanted two things to move – she wanted a Great Dane and an Arabian stud."
Lea had both, and the couple have been married for over 50 years.
After her wish to have a Great Dane, Rufus, Lea started a dog breeding business.
"It was really an accident," Lea said.
Homebuilding in Colorado Springs hammered by rising mortgage rates
Her dog and another Great Dane had puppies, so she decided to learn more about canine genetics and purebred dogs. From there, the business took off, but her dog-breeding days have since come to an end – although she and Dan continued to breed dogs overnight.
For Lea, it's all about dogs, but Dan loves the people he's met over the years.
"We've always said we're thinking of senators for strippers," Lea said.
Dan and Lea agree that their new business keeps them busy, but one day they hope to pass their establishment on to their adult children who helped run their Colorado establishment, farm, and kennel in Indiana.
While business has been slow in the first month on Boardmoor, they believe traffic on Boardmoor may be skyrocketing due to the pet friendliness of the area. Of course, other businesses, such as Tumbleweed Country Kennels, Lucky Dog Day Care and Boarding and others, are also capitalizing on this pet-friendly environment, with a host of dog boarding and dog daycares in the area. But Dan thinks his establishment will stand out.
"Build the best construction," Dan said, "and they will come."