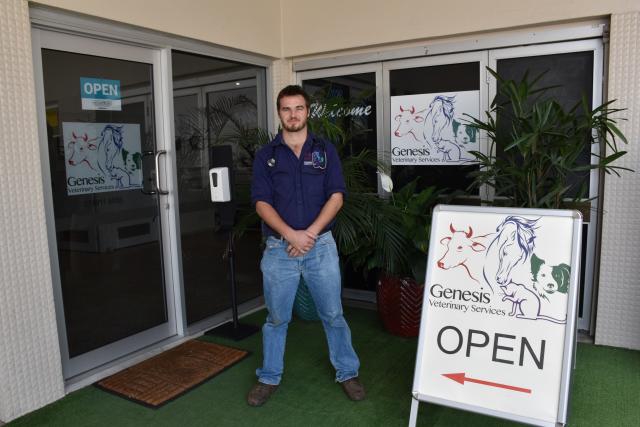 by Khrysti Balanay
November is National Pet Cancer Awareness Month, and a local veterinarian wants to make sure owners notice the signs of a sick pet.
Genesis Veterinary Services veterinarian Daniel Stanke has been with the clinic for 18 months after completing his training in Townsville.
Having grown up surrounded by animals on his family farm in Alton Downs, Dr Stanke understands the role a companion animal plays in family dynamics and advocates frequent check-ups.
"Cancer is the leading cause of death in dogs," he said.
"One in four dogs and one in five cats will get cancer in their lifetime.
"When dogs are over 10 years old, it increases the risk of developing cancer by 50%.
"The earlier we catch it, the better chance we have of curing it or giving the animal the best possible life."
Dr Stanke said many types of cancers can appear in pets, so it is essential to have them checked if owners notice any behavioral or physical changes.
"There are many different types of cancers that can appear in our pets," he said.
"Some common types are osteosarcomas which affect the bones, lymphomas found in the lymphatic tissues of the neck, and testicular cancers in male dogs.
"By taking your pet to the vet, they will be able to recommend the best treatment options for you, as this varies depending on the type of cancer and where it is."
At Genesis Veterinary Services, the clinic offers a variety of options to help diagnose a pet and help recommend the best course of action.
"We can do tests such as a fine needle aspiration where you put the needle into a lump and view it under a microscope," Dr. Stanke said.
"We also have a machine called Imagyst, where we can scan the slide for specialist pathologists, and they can tell us what it is.
"Some treatment options include surgery and chemotherapy depending on the type of cancer."
As the summer months approach, Dr. Stanke would like to remind pet owners to remain vigilant when caring for their pets.
"Right now there is a national shortage of anti-tick antiserum, which is used to treat tick paralysis," he said.
"The best course of action is preventive care such as tick collars or monthly tablets and chewable tablets.
"Heatstroke is also a concern as it gets hotter, so make sure your dog or cat has access to water and shade.
"We are seeing an increase in snakebites, so if you notice anything strange about your pet, be sure to seek veterinary attention as soon as possible."